http://heartstring-designs.blogspot.com/2010/06/heartstrings-needs-to-hit-100.html
Design Team Sponsors
Heartstrings
Anne
Beth
Gaby
Madison
Mariam
Pam
Followers
frontpage hit counter
Online users : 14
JavaScript Free Code
Facebook Badge
Heartstrings
Promote Your Page Too
Labels
* Accent Essentials (3)
* art work (2)
* awards (2)
* cards (12)
* challenges (10)
* Copic (8)
* create a critter (1)
* Design Studio (3)
* Design Team (2)
* Easter (1)
* flowers (5)
* Forever Young (2)
* gift giving (2)
* Give a Hoot (1)
* give-aways (1)
* Home Decor cartridge (3)
* locker talk (2)
* LoveStruck (2)
* Makin' the Grade (1)
* my world (1)
* Plantin School Book (6)
* pooh font set (2)
* scrapbook (1)
* shabby chic (2)
* Stamped cartridge (1)
* Sweethearts (3)
* tools (5)
* video tutorial (1)
Friday, June 4, 2010
Heartstrings Needs to Hit 100!
Be sure to read all the way to the bottom where I have added some very important information! Plus a 5th way to win this give-away!
The time has come. I have been hovering under 100 followers for a few weeks now and it is time to bring in the big guns. I decided to offer something special that will be drawn on June 20th to one lucky follower of my blog. And here it is!
Yes, that's right. The brand new (for a limited time only) Cricut Independence Day Seasonal Cartridge. I don't even have this one yet. It looks like a lot of fun and will arrive to you just in time to make fun things for July 4th.
This giveaway is open to anyone, anywhere. While it is designed more towards United States residents, I am not opposed to giving it away to my friends in other countries too. :)
You can win up to 4 ways:
1. (This one is required before you can be eligible for the other 3) If you are not a follower...become a follower and leave a comment that you did. If you are already a follower (hugs) leave me a comment, "hey Shelley....I already am a follower!" and you are entered. (1 comment, 1 chance)
2. If you make a post at your blog about this giveaway...and leave a comment here that you did...you are entered 2 times! (2 comments, 2 chances)
3. If you post this giveaway button on your blog, leave another comment that you did and you are entered 3 times! WOW! (3 comments, 3 chances)
4. After you have done either 1,2, or 3...If you own or frequent a crafting fan page on Facebook or any other social networking site and leave a post there about this giveaway with a link back to me...you are entered 4 times! (be sure the fan page is ok with outside links...some are sensitive about taking traffic away from them. I don't want to make anyone mad at us!) And once again, come and leave me comment here at this post that you did. (4 comments, 4 chances)
5. One more just added! Join me at my new facebook fan page for another chance to win! Be sure to leave a comment that you did. (5 comments, 5 chances to win) ~~Click on the widget to the left to be directed to the page.
All the individual comments are important. Like little individual lottery tickets. ;)
Important Reminder....leave your email address with your comment so I can contact you if you win!!!
Insert Fireworks Display! :) oooooo....ahhhhhhhh
Whew...that's a lot of work. But, it's worth it. :) And since this isn't one of those heavy traffic sites...your odds of winning are pretty good!)
Here is the button I would be honored to have you add to your blog.
Insert the code below into your side bar and it should do all the linking for you.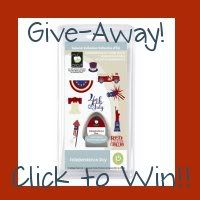 disclaimer: If by some chance I have not reached 100 followers by June 20th...we will give the cartridge away anyway. At least we tried....right?
Wow! Who knew we could reach 100 in the first afternoon?! You are all so awesome. I am still going to run this giveaway through June 20th, but since the response has been so huge....I am sweetening the pot! Now...if we reach 125 followers, I will add in some unmounted stamps from our Design Team sponsor, My Heart Stamps for You. And....you guessed it...as the numbers keep climbing so will the Prize!